memorials introduction | memorials index | Sandy's articles about grieving
A PARENTS LOVE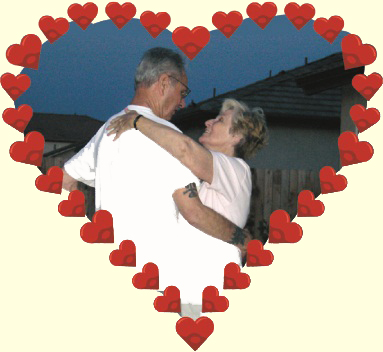 Glen and Agnes Rich
June 8, 1957
     On this Fathers Day we wish to celebrate the life of two human angels, our Mother and Father.  June 8th our parents would have celebrated their 53rd wedding anniversary.  Our Dad passed away in January '09 and Mom in February '10. Theirs was a love story that was destined in the stars.  Long before blended families were the norm, Mom and Dad forged their way with hers, his and ours.  We became a family.  For over 52 years these two best friends had a wonderful marriage and it was very rare to see one with out the other.  In watching Momma and Daddy interact we learned a lot about what true love was, how to honor and respect your partner, the role of being a great parent and how laughter was the glue that held it all together.
     Our Mother and Father taught us by example what the word "Family" truly means.  They were not wealthy in material items but they were rich in the love they showered on their family.  Their motto was "A family that played together, stayed together."  Between Sunday drives, playing dominoes and picnics at the park, they taught us all how to dance.  The memories of all of us dancing to the Platters continues to bring a smile to my heart. 
     Mom and Dad taught us to love each other unconditionally, to stick together with a decided heart and to live each day to its fullest.  Glimpses of them and the values they taught us will continue to live in us kids and we in turn will pass these values on to our children.
     Even though their physical being has left us, their spirit is still here.  If we can find comfort in their passing, it's to know that they are now reaping the rewards of a life well lived.  It's to know that they have already earned their wings…and they are golden.
GONE BUT NOT FORGOTTEN…..www.Iamahumanangel.com