Would you like to read more fun stuff?
print version
HEART SHAPED ROCKS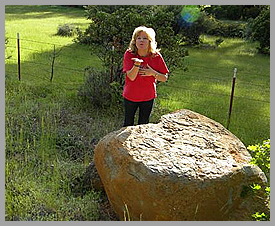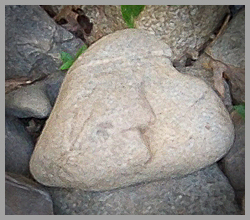 I have had a life long love affair with rocks.  As a child my father would take us out for a Sunday ride in the foothills of the central valley.  Usually we would end up at the creek walking along the banks looking for rocks for my mother's flower garden.  My pockets would be filled to overflowing with the treasures collected that day. A bit of white granite, red jasper or maybe a piece of driftwood would grace my windowsill that night.
     Over the years my attraction to rocks has evolved. I have gone from painting funny faces on them to only choosing heart shaped ones now.  A good friend shared how her and her grandson would walk the creeks and look for heart shaped rocks.  They had started a HEART GARDEN filled with the treasures they had found together.  Everywhere they visited they would add to their collection of memories by choosing a rock for their garden.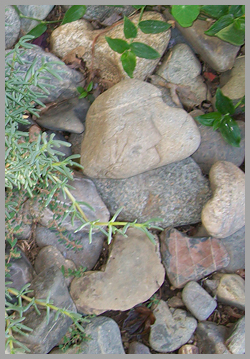 My own heart rock garden is starting to grow.  House guests have begun to bring me heart rocks sharing where they got them and what a fun time they had with their children looking for them.  This can be a great afternoon outing that doesn't cost any money, gets you outside and yet it's fun exercise.   Try this little experiment with the kids…when you are out looking for heart rocks (they are easier to find than you think)…after about 30 minutes of looking gather the kids together, hold hands and ask the angels to help you find the heart rocks.  It's amazing what happens…you start finding heart rocks everywhere.  You WILL find more than you did in the first 30 minutes.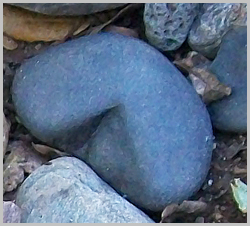 When you find a perfect heart it's like Mother Nature reaches out to give you a big hug.  I encourage you to make some memories with your family this weekend.  Take a walk and fill your pockets with hugs.  Maybe you can pack a few pb&j sandwiches and have a picnic.  Have a little fun, start talking to your angels and grow yourself a HEART GARDEN.
MAY YOU ALWAYS BE CARRIED ON ANGELS WINGS.