JUNE BIRTHSTONE - PEARLS
By Linda Lopez
By her who in June was born
No gem save pearls shall be worn
They will ensure her constancy
True friendship and fidelity.
~Gregorian Birthstone Poems~
The Pearl graces the month of June.
A true gift of the earth and ocean combined. When you think of it. The Pearl actually begins as a irritation in the form of a small grit of sand. ( sort of like some men we've loved.) Over time the oyster coats the particle with "nacre". layer upon layer, making it smooth and easy to live with. These layers actually lend to the beauty of the pearl. The minerals present in the water at the time can help dictate the color of the pearl. Purest white to soft golds, pink, greens or even the "black" pearls, famous in Tahiti. There is no "wrong" color. It is soley a matter of preference. Let your intuition be your guide.
Pearls represent Purity, innocence and forgiveness. Long used as gifts to young women and as wedding gifts.
Alternatives to Pearls.
If you are not a "Pearl" person, I would like to suggest using Mother of Pearl, highly polished shell. It will energize the same traits for the wearer.
White onyx is also representitive of purity, but grounded by the earth tie only.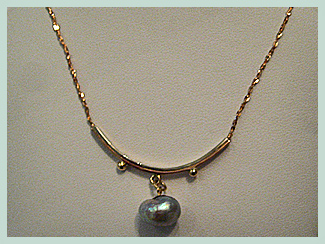 I would be happy to answer any questions you may have about stones or make you your own personal jewelry piece. Please feel free to contact me at mannynlinda@comc
More about spiritual aspects of stone
MAY YOU ALWAYS BE CARRIED ON ANGELS WINGS.